This week: video games, video tech, and video immersion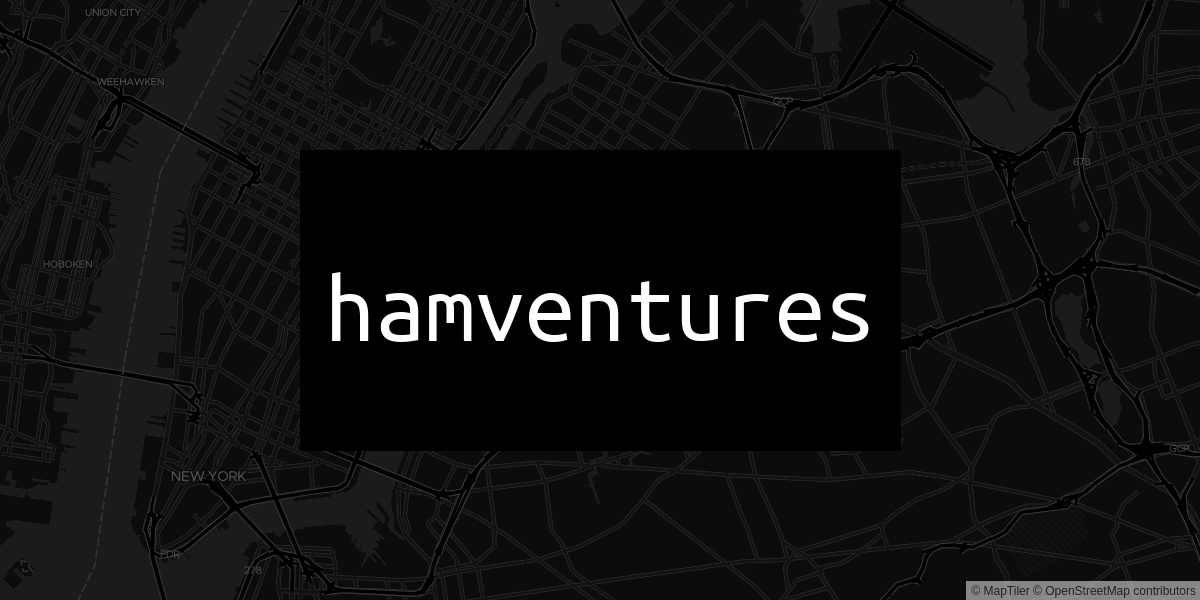 To get Hamventures right in your inbox, subscribe here. Prefer Facebook? Like the page.
Monday (2019.12.02)
ART/CODE: Fall 2019 student showcase @ School for Poetic Computation (day 2) - come see poetic creations from students of SFPC. For a glimpse of what to expect, check out the SFPC instagram, free
Tuesday (2019.12.03)
ART/DISCUSSION: Shannon Mattern on Urban Algorhythms @ Cooper Union IDS - the city, its sounds, and what that means - free
MUSIC: Freelance @ Taplin Auditorium - musicians perform works by Princeton University graduate student performers, free
TECH: December 2019 Tech Meetup: A women's demo night with NY Tech Meetup - A monthly showcase of NY companies, their products, and a networking afterparty (this month features women founders), $10
Wednesday (2019.12.04)
ART/DISCUSSION: Embodied Scores - the poetics of data excavation in the crip body - "artists Pelenakeke Brown and Yo-Yo Lin will share their practices in excavating, gathering, and investigating the archive of their living bodies", free
VIDEOGAMES: Playtest night @ Wonderville - Game creators show off their works-in-progress to get feedback and #connect. Anyone can come, anyone can test - free though donations are welcome and there's a bar
TECH/PROJECTS: Weekly project night with the New York Python Meetup Group @ Microsoft - Work with other NYC Python users on your own projects or find a new one, free
TECH: December video tech meetup with Video Tech NYC @ Facebook NY - various talks relating to video from peeps at Disney+, FuboTV, and FB (I didn't get sponsored to say this, promise) - FREE
Thursday (2019.12.05)
ART/CONFERENCE: ISCP 25th anniversary symposium - Cultural Exchange and the life of the Metropolis @ ISCP - " a free two-day symposium with more than twenty renowned speakers focusing on contemporary art and cultural exchange"
ART/DISCUSSION: A conversation with Artist in Residence Mar4ie Claire LeBlanc Flanagan @ NYU Game Center - "Marie is excited about spaces between people, especially spaces related to expression and connection. How do people work together? Make decisions together? Build new ways of playing together?", free
ART/PARTY: Winter Disco @ the Whitney - Dancing, art-making, access to exhibitions, and #drinks (that you have to pay for). Also I'll be there and all dressed up. Come @ me IRL. $45 / person, but if you do two tickets for $90 you get the $80 yearly membership for free, so consider if you go kinda often.
Friday (2019.12.06)
ART/OPENING: Exhibition opening for Danica Barboza, Jason Hirata, Yuki Kimura, and Duane Linklater @ Artists Space - free
VIDEOGAMES: ENTER PLAYMODE - a game showcase by students of Parsons Design and Technology school @ Wonderville - Friday and Saturday, free (this place is also a bar so you can #drink too if you want)
MUSIC: Champagne Drip and Luzcid @ Schimanski - $20+
Saturday (2019.12.07)
YOGA: Free Yoga @ the Public Hotel
ART/EXPERIENCE: See Refik Anadol's exhibition @ Artechouse - $24
Sunday (2019.12.08)
ART/STUDIOS: Second Sundays @ Pioneer Works - A monthly event where Pioneer Works opens its doors to the public to come check out studios, see current installations, experience live performances, and buy stuff from local vendors, free